emed

The perfect system for quick measurement of foot function and stability measurements.

pedar/pedoport

The ideal tool for evaluation of the pressure interaction between the foot and footwear over the course of a few seconds to a full day.

pliance

These systems offer state of the art technology for pressure distribution measurement between soft and curved surfaces in a wide variety of applications.

analysis/reporting

Quick, easy, and accurate analysis, reporting, and data storage of hundreds of parameters.

ESM 2014 Was a Success!

The 14th biennial ESM was held in the historic Cambridge, MA July 2-6, 2014. The scientific presentation at this year's conference and the keynotes by Dava Newman, Marian Hannan, Georg Duda and Paolo Bonato encompassed science from the cellular level to population science and from Earth to space! The art in science award presentations came from many different fields including diabetes, anthropology, geriatric, musical and clinical science.

This year's conference was held over the American 4th of July Holiday. The history of Cambridge was tied into each of our events and included the Harvard Museum of Natural History, Harvard Yard, the Longfellow House and much more! While hurricane Arthur did its best to derail our plans on July 4th we made the best of the day which included World Cup soccer (fútbol) and an enjoyable (but wet) harbor cruise.

The conference concluded with a magnificent concert performance by pianist Henriette Gärtner, who in turn was also the art in science award winner for 2014. The scientific banquet was held at the Sheraton Commander conference site and attendees enjoyed contra music and dancing!

ESM 2014 was again a huge success and we look forward to the meeting in two years and the time we get to spend with our ESM friends and colleagues!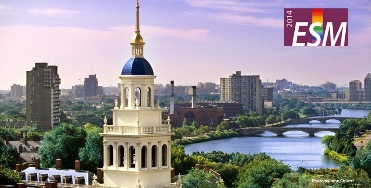 ESM 2014 Awards

art in science award
Feedback on Force, Sound and Video Sequence of Keystroke During Piano Playing
Read the Abstract Here.
Henriette Gaertner, University of Music Trossingen, Germany and Renzo Pozzo, University of Medicine Udine, Italy




Best presentation award
The Efficacy of Removable Devices to Reduce Pressure and Heal Plantar Foot Ulcers in Diabetes: A Randomized Controlled Trial
Read the Abstract Here.
Sicco A. Bus, Ziekenhuisgroep Twente, Almelo and Academic Medical Center, University of Amsterdam, the Netherlands




Best poster award
Data-Driven Directions for Effective Footwear Provision in Diabetic Patients with a History of Foot Ulceration
Read the Abstract Here.
Mark L.J. Arts, Academic Medical Center, University of Amsterdam, The Netherlands




MPP award (most promising proposal)
Force Generation in the Woman Pelvic Floor – Is it possible to scan its coordination capacity?
Licia Pazzoto Cacciari, Faculty of Medicine, University of Sao Paulo, Brazil




ESM Abstract Titles Now Available Online! We received almost 60 abstracts in various fields of load distribution measurement. This year's program will be very diverse including presentations and posters from biomechanists, clinicians, anthropologists and many more scientists! Click here for a listing. ESM 2014 Keynote Speakers have been Confirmed
Dava Newman, Massachusetts Institute of Technology, Department of Aeronautics and Astronautics and Engineering Systems, Boston, MA. Dr. Newman specializes in investigating human performance across the spectrum of gravity. She is an expert in the areas of extravehicular activity (EVA), biomechanics, energetics, and engineering design. Her finite element modeling work provided NASA the first three-dimensional representation of bone loss and loading applicable for long-duration missions.
Marian Hannan, Harvard Medical School, Institute for Aging Research, Hebrew SeniorLife, Boston, MA. Dr. Hannan is currently conducting research on risk factors for arthritis, foot disorders and biomechanics, hip fracture and osteoporosis. She is particularly interested in the effect of biomechanics upon physical function and the influence of body composition.
Georg Duda, Julius Wolff Institut at Charité – Universitätsmedizin, Berlin, Germany. Professor Duda focuses his research on the importance of biomechanics characteristics for cells and tissues of the human musculoskeletal systems. His group aims to reproduce natural regeneration of the musculoskeletal system by identifying and targeting the most effective approaches over a number of different scales (cell, tissue, organ, extremity).
Paolo Bonato, Spaulding Rehabilitation Institute, Wyss Institute for Biologically Inspired Engineering, Boston, MA. Dr. Bonato's research work is focused on the development of rehabilitation technologies with special emphasis on wearable systems and robotics.
Click here to view more information about the Keynote Speakers.
Click here to visit the ESM website.
novel's emed Systems Used During West Point's Class of 2017 Boot Fit Day!
novel inc and researchers from the U.S. Military Academy, Hospital for Special Surgery, Temple University, and the New York College of Podiatric medicine had the oppurtunity to participate in West Point's yearly boot fit day. On this day, the entering class of 2017 are given all of their gear, including boots and athletic footwear. As part of a research project, five emed-x systems were used to collect pressure data on over 1,000 cadets.
Click here to read about the project.
Version 23 Software and Manuals Now Available!
Version 23 software is now available for all users currently on a software maintenance plan (as well as new users who purchased within the last year). New manuals, which accompany the new version 23 software, are now located on the support section of our website. This includes manuals for all of the scientific software, as well as emed.
To find out if you are eligable for the v23 software, to receive an upgrade proposal, or to gain access to the manuals, please contact novel at novelinc@novelusa.com. Click here to download the manuals. Version 20 and 21 manuals may also be found on the above page.
novel's pedar system is featured on Fox News Live WGHP, High Point, NC!
Dr. Kevin Ford discussed the use of the pedar in-shoe pressure measurement system with a reports for WGHP while she walked on a treadmill while wearing the pedar insoles. Click here to download the news clip!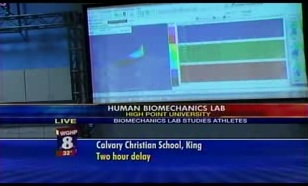 George Washington University Department of Anthropology Collects pliance hand data in Ileret, Kenya!
Dr. Erin Marie Williams collected pliance hand data on a variety of subjects this summer in Ileret Kenya. She is investigating early toolmaking. During this process, rocks of different hardness are banged together and the flakes which result become a primitive tool. Her previous lab research at GWU was recently published in the Journal of Human Evolution. This series of pictures shows Dr. Williams, a few students/subjects, and a group of Daasanach (the native people of Ileret, Kenya). The subjects were making simple Oldowan choppers using ignimbrite and basalt, two raw materials found throughout Ileret and which our early human ancestors used for stone tool production and use.
Additional news can be found on the novel global website.
Click here to learn more.