emed Hardware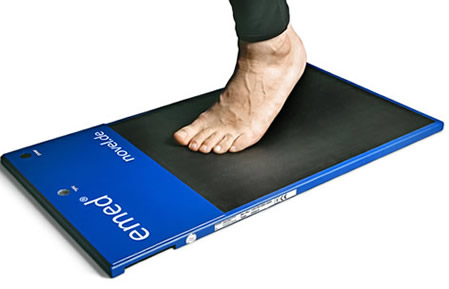 emed systems are available in six models: x, xL, q, n, c and a. All three systems collect and display the plantar pressure measurement from the emed platforms. The premier of the platforms is the emed-x .
The emed®-x system is the premier version of the novel pedography measurement platforms. This system functions like all emed® platforms with calibrated capacitive sensors. The emed systems works with a notebook or desktop PC and connects directly to the USB interface of the PC. The emed-x system can be used either in a high speed mode with a sensor resolution of 1 sensor/cm² and a frame rate of 400 Hz or in a high sensor resolution mode with a sensor resolution of 4 sensor/cm² and a frame rate of 100 Hz. With a user defined sensor area, the platform can be scanned at a rate greater than 400 Hz.
The emed®-x supplies frame by frame in- and out- synchronization for motion analysis, digital video, and EMG and a built-in synchronization LED. Synchronization via the microphone input of the digital video camera allows simultaneous collection of dynamic pressure measurement and multiple digital video cameras. The emed systems can be started from novel databases and includes extensive software for patient monitoring and foot analysis (see analysis and reporting section for more information).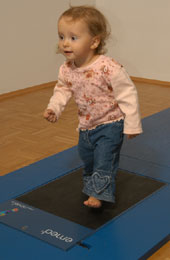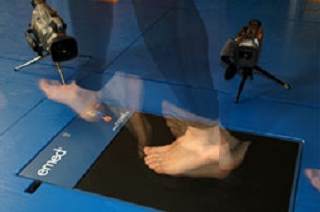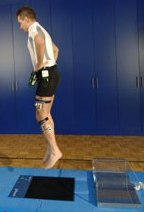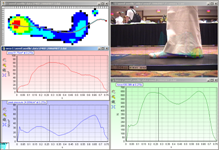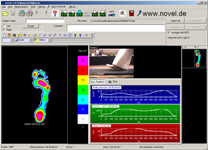 Technical data for emed-a, -c, -n, -q, -x, and -xL systems
emed-a

emed-c

emed-n

emed-q

emed-x

emed-xL

dimensions

610x323x
16(18)

610x323x
16(18)

690x403x
16(18)

690x403x
16(18)

690x403x
16(18)

1,529x504x
18

sensor area

380x240

380x240

475 x 320

475 x 320

475 x 320

1,440 x 440

number of sensors

1760

3840

6080

6080

6080

25,344

platform thickness (mm)

18

18

18

18

18

18

sensor resolution (sensors/cm^2)

2

4

4

4

1/4

4

sampling frequency (Hz)

50/60*

50/60*

50/60*

100

100/400

100

pressure range (kPa)

10-950

10-1200

10-1270

10-1270

10-1270

10-1270

pressure threshold (kPa)

10

10

10

10

10

10

accuracy

±7% ZAS

±5% ZAS

±5% ZAS

±5% ZAS

±5% ZAS

±5% ZAS

hysteresis

<3%

<3%

<3%

<3%

<3%

<3%

temperature range (°C)

15-40

15-40

10-40

10-40

10-40

10-40

maximum total force (N)

67,000

120,000

193,000

193,000

193,000

804,670

crosstalk (db)

-40

-40

-40

-40

-40

-40

cable length (m)

5

5

5

5

5

5

connection to computer

USB

USB

USB

USB

USB

USB

operating systems

Windows 7, 8, 10

Windows 7, 8, 10

Windows 7, 8, 10

Windows 7, 8, 10

Windows
7, 8, 10

Windows
7, 8, 10

synchronization

None

sync pulse at first loaded frame

sync pulse at first loaded frame

sync pulse at first loaded frame

frame by frame in- and out- synchroniza-tion

sync pulse at first loaded frame
*User must specify either a 50 or 60 Hz platform

Download Brochures
Brochures

emed systems, (3 mb)


emed-xl, (3 mb)


emed pedography software (1.74 mb)


pedography overview (1.48 mb)


pedography for the diabetic foot (3 mb)

Data Collection Info

emed HowTo data collection guide (100 kb)


emed guide (17 kb)

Specifications

emed-xl specs (120 kb)


emed-x specs (16 kb)


emed-q specs (16 kb)


emed-n specs (16 kb)


emed-c specs (16 kb)


emed-a specs (16 kb)


emed-xl walkway specs (45 kb)


emed-x, -q, -n walkway specs (17 kb)


emed-a, c walkway specs (17 kb)
Other Downloads

Get Acrobat Reader

Download DivX video codec to view our videos